Congratulations to Tonkin + Taylor (T+T), our long-term customer, for being nominated as an award finalist for the CIO's Business Transformation by Digital and IT Award. The award recognizes businesses that have effectively developed and implemented a Business Transformation effort or initiatives involving digital technologies.
Such achievement is the reward for the efforts and constant growth of T+T's engineering team, management, partners, and employees. Change on this scale has been made possible through valued relationships with Amazon Web Services (AWS), encouraging accelerated digital advancements for the infrastructure business beyond what has previously been witnessed.
CodeComplete is proud to be one of the partners that has contributed to T+T's success. With the goal of providing useful remote technology solutions to customers, CodeComplete's role has been proven via the successes achieved for customers day-by-day and its capacity to deliver strong and sustainable human resources as a dependable partner in the field.

Once again, we would like to celebrate our partner T+T on your well-deserved success. We hope that CodeComplete will continue to accompany and contribute to your future accomplishments. Congratulations!
More photos from the CIO's Business Transformation by Digital and IT Award event can be seen here: https://www.ciosummit.co.nz/awards/finalists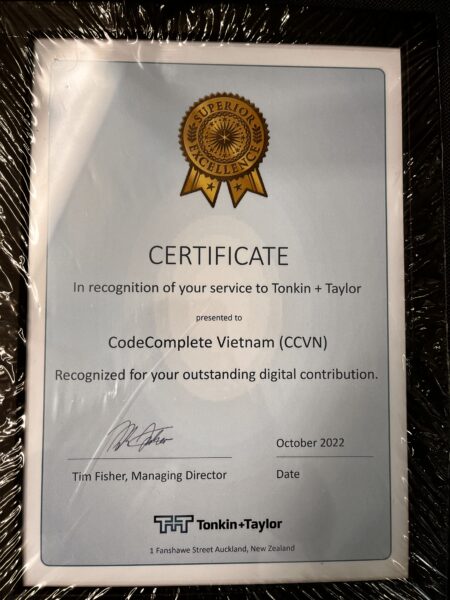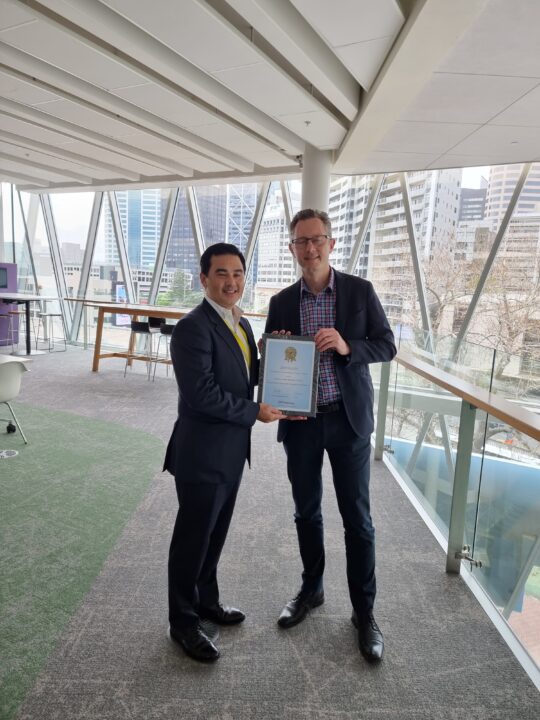 Tim Fisher, Managing Director of T&T, awards CodeComplete CEO & Founder Simon Saeki with a certificate of distinction for our significant contribution during a customer meeting event in New Zealand in October 2022.