Interviewer: Trang Nguyen – HR Team
Interviewee: Uyen Nguyen – Software Engineer
—
In the midst of a struggling job market, the scarcity of IT job opportunities is a pressing issue in Vietnam. With the economic downturn, many job seekers are turning to the field of Information Technology. This has created intense competition, not only among professionals already in the industry but also among those transitioning from other sectors. In this highly sought-after industry, newcomers wonder if they can secure a foothold and how to enhance their competitiveness. To answer these questions, we'll meet Uyen Nguyen, a Software Engineer at CodeComplete, who will share her transformative journey with us today.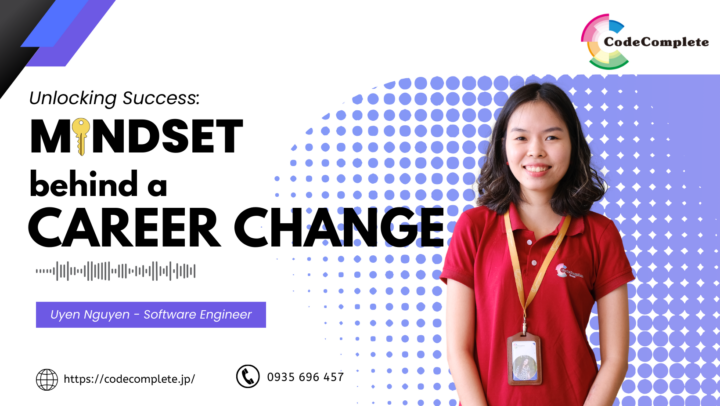 Trang: Hello! Thank you so much for attending the interview today. Firstly, can you share something about your professional background?

Uyen: I'm Uyen, a Software Engineer at CodeComplete with 2 years of experience. I graduated with 2 degrees in English Major and Business Administration and had over 5 years working in the Hospitality industry. After that, I took my first step in IT as a Mobile Developer Intern at CodeComplete. 
Trang: What motivated you to shift careers and pursue IT?
Uyen: I believe it's better late than never. Covid made traditional sectors like Hospitality less feasible due to restrictions. Looking for a pandemic-proof industry, I noticed IT standing strong. My friends in IT continued to work comfortably from home, unlike my one-year unemployment due to the pandemic. Witnessing this stability, I got intrigued by programming languages and decided to give IT a shot. I spent 9 months self-learning IT at home from there.
Trang: So how do you equip yourself for the IT industry?
Uyen: I break down my learning journey and self-study process into 4 stages. You can take it as a reference here: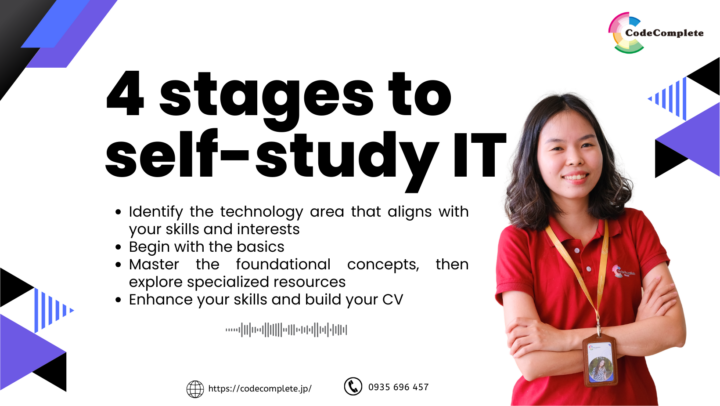 Trang: What is the decisive factor for achieving success in today's IT industry?
Uyen: To achieve success in any field, including IT, it's crucial to have a clear understanding of the following three aspects for yourself:
Mindset:

Identify strengths, weaknesses, and preferences through practical experience for a clear career path.

Self-discipline:

Independent learning is key in the ever-changing IT sector. Staying current is a must.

Guidance & Environment:

A good mentor and a supportive work environment boost career prospects, setting a strong foundation.
Trang: Finally, what advice do you have for individuals looking to switch to a career in IT?
Uyen: When others claim you're unable, respond with just two words: "Observe me." Then, follow these actions:
Boost your profile with essential soft skills. Beyond English, fluency in a foreign language, like Japanese, can distinguish you.

Develop your communication skills by actively engaging in school presentations, interacting with customers and colleagues, and working in the service industry.

Refine your ability by learning from mentors and on-the-job experiences.

Stay updated by attending seminars and job fairs to align your skills with industry demands.

Approach your work with a proactive, committed attitude.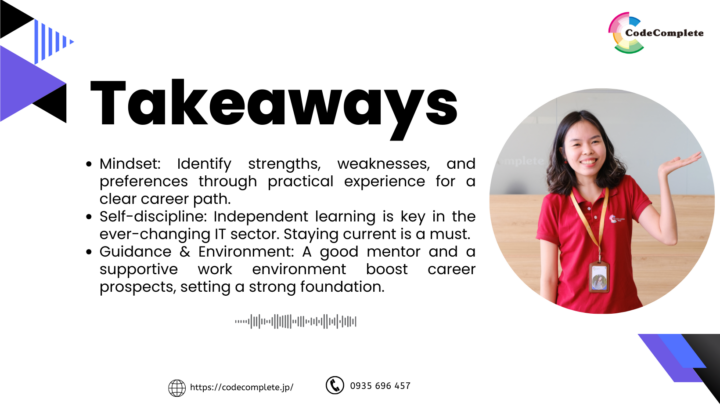 Trang: Wow, amazing! Thank you so much for sharing your insights and advice with us; I truly believe it will be incredibly helpful, Uyen!
That's the end of our talk with Uyen today. Hopefully, it will provide valuable information for those considering a career path change. We look forward to welcoming you on your IT journey and perhaps meeting you at CodeComplete in the future!